Employees in Berlin are the happiest in Germany
Employees in Berlin are the happiest in Germany
It may be dirty, smelly and generally a bit scruffy around the edges, but a new survey has found that Berlin is home to the happiest workers in Germany.
Kununu's Happiness Index
Every year, the employer rating platform Kununu compiles the so-called "Happiness Index" of Germany's 16 federal states. For 2019, they analysed around 140.000 reviews, using criteria such as working conditions, career opportunities and salary to calculate a Happiness Score that ranges from 1 (very dissatisfied) to 5 (very satisfied).
Overall, this year's results showed a positive trend: workers in Germany are getting happier. The federal republic's overall Happiness Score rose from 3,63 in 2018 to 3,65. Back in 2017, it was down at 3,58.
Berlin has the happiest workers in 2019
For the first time this year, Berlin came out on top of the Happiness Index. According to Kununu, this is mainly due to "renowned companies such as Deutsche Bahn, Deloitte and Siemens, numerous new settlements and a lively start-up scene", which make the capital an attractive location for talents from Germany and abroad.
Hamburg and Bavaria also scored well, securing 2nd and 3rd place, respectively. Together with Berlin, they were the only federal states that managed to improve their scores from 2018. Last year, Hamburg topped the ranking but did not manage to increase its score as dramatically as Berlin this year.
Clear East-West divide
As with previous rankings, the 2019 Happiness Index shows that there is still an evident East-West divide in Germany. All of the top five positions on the ranking were filled by west German states, with the eastern federal states sliding towards the bottom of the ranking. With a score of 3,56, Saxony performed the best in the east, but still only ranked 10th.
HR workers are happiest of all
The ranking also showed that workers in certain professions have bigger smiles on their faces than others - and they're not always the people who are the best paid. While human resources (4,12), consulting (4,12) and auditing (4,09) lead the pack, workers in prestigious industries like chemical engineering and pharmaceuticals were much lower.
5 steps to happy workers
And what makes for happy workers? The authors of the Kununu report were able to point to five key factors: namely, a safe workplace, a permanent contract, a good salary, good cooperation with colleagues and good leadership from supervisors. Workers also respond well to company sports offers and health checks.
Happiness Index 2019
The full ranking for the 2019 Happiness Index was as follows: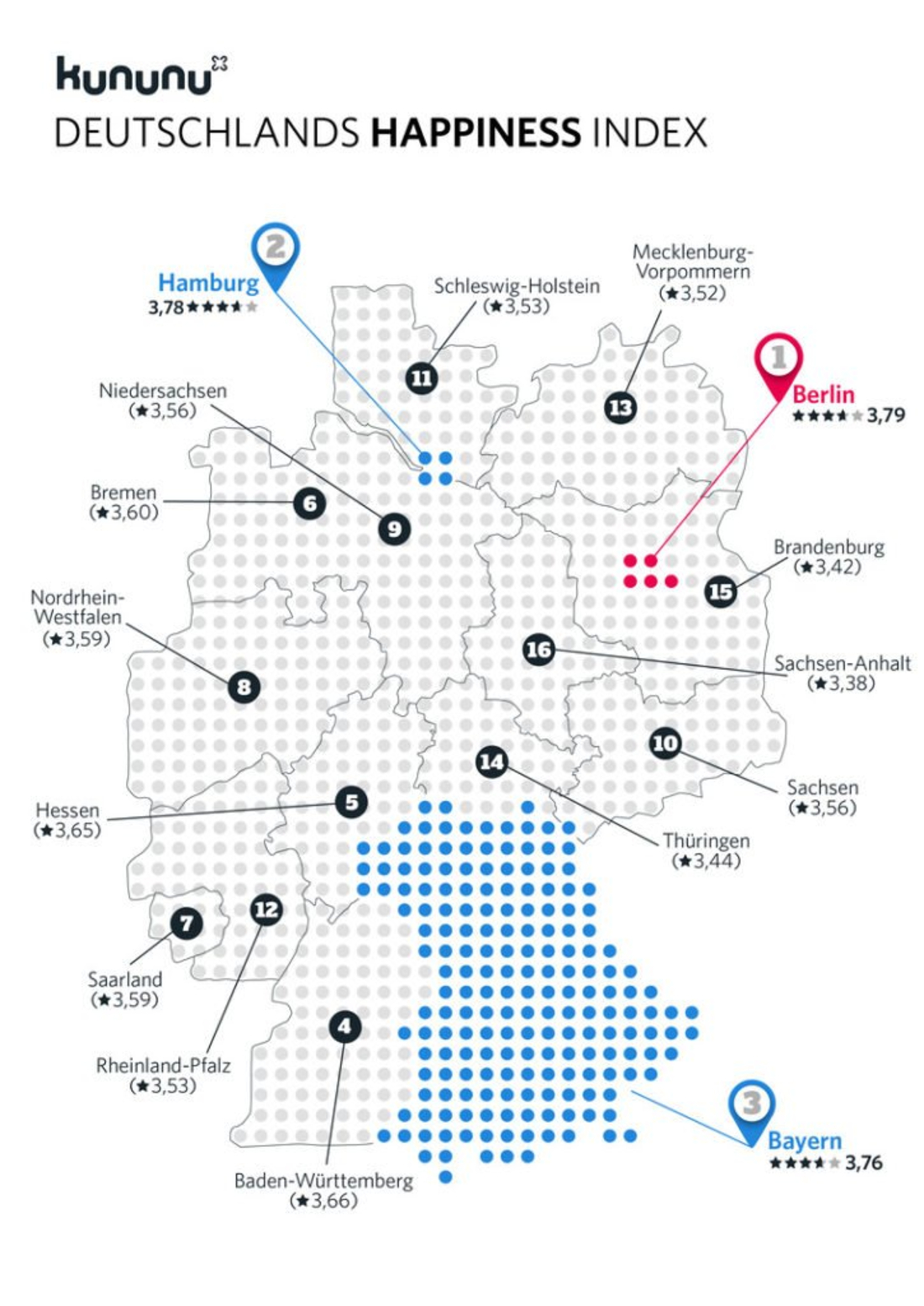 You can find more information, including details on how the scores are calculated, on the Kununu website (in German).
By clicking subscribe, you agree that we may process your information in accordance with our privacy policy. For more information, please visit this page.