Tomorrow: A wooden card for a new, future-friendly banking experience
Advertisement
Tomorrow: A wooden card for a new, future-friendly banking experience
A bank card is a status symbol for success, power and a "jet set" lifestyle. In recent years, we've seen them in all kinds of new materials. Digital banks, in particular, are constantly trying to outdo each other with their flashy new cards. But what if a card could become a symbol for climate protection?
In only eight minutes, you can join Tomorrow's mobile banking for a better future
Get the first wooden debit card
Tomorrow contrasts the cool perfection of steel with the warmth and lively uniqueness of wood. In keeping with their promise to protect the rainforest with every card payment, they are introducing a new symbol for sustainability.
The wooden card is part of their premium account, Zero. Try Zero and offset your carbon footprint every month.
But there are more perks than just sustainability: Zero also lets you withdraw cash internationally, free of charge, as often as you want. Alternatively, you can simply stash money away into sub-accounts, to help you meet your savings goals. With Zero, there's no limit on the number of pockets you can create.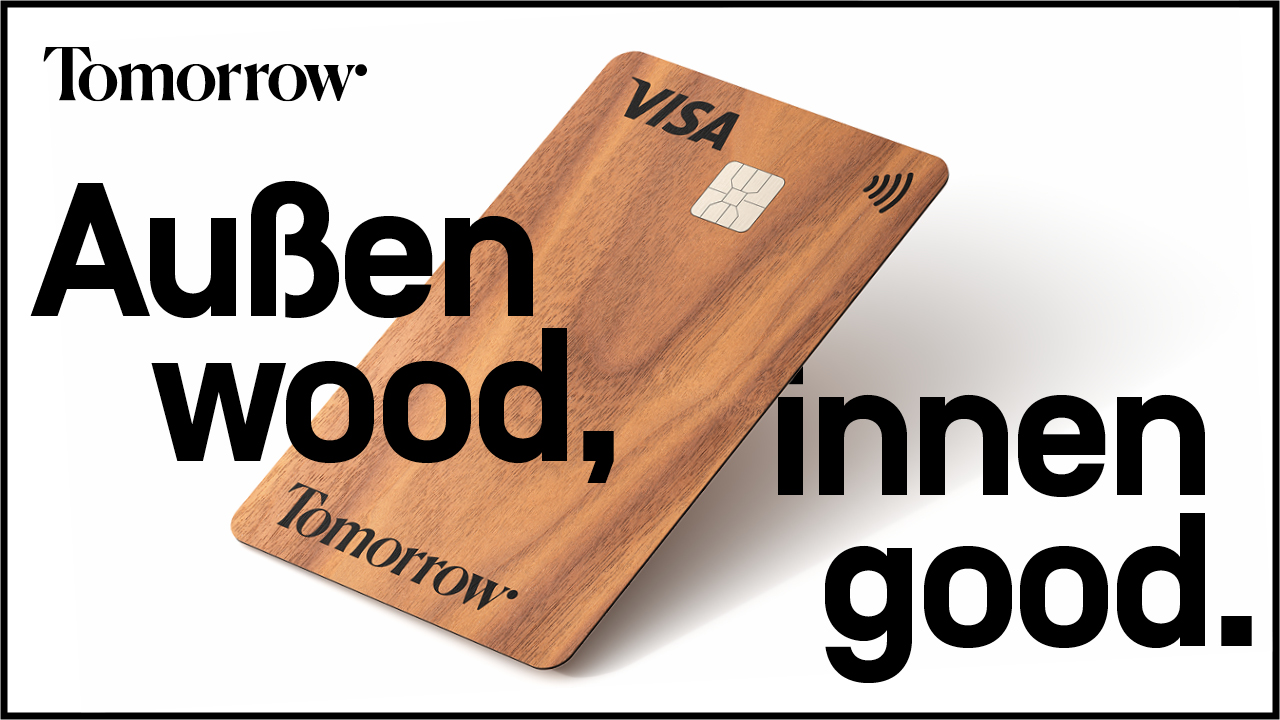 Make your money climate-friendly within eight minutes
Tomorrow believes that money can be part of the solution. While we might make a conscious effort to buy organic vegetables and use green electricity, the money we have sitting in the bank could be financing a new coal-fired power station. This might sound over the top, but it's the harsh reality.
So, it's time to turn the tables! With Tomorrow, not a cent goes into armaments or coal power. They exclusively finance sustainable and social projects. Also, for every euro you spend with your Tomorrow card, you protect one square metre of rainforest. The more people that join, the greater the positive impact. (If you want to check out Tomorrow's sustainable credentials, see their impact statement).
Sign up from wherever you are – without paperwork or administrative hurdles. You can use your smartphone to open a Tomorrow current account in just eight minutes - you just need your address and a form of ID to start protecting the rainforest with every euro you spend!
Modern smartphone banking meets sustainability
Tomorrow offers you modern smartphone banking. They use state-of-the-art technology to match your 21st-century expectations
Keep track of your personal finances with Tomorrow's Pockets feature, which allows you to stash money away into sub-accounts. And with everything you buy assigned a category in the Tomorrow app, you can keep a close eye on all of your expenses.
Become part of the community
Tomorrow is an independent project from St. Pauli, initiated by founders Michael, Inas, and Jakob. Today, they are a team of 40+ employees - with already 45k+ customers on board. Together with you, they want to develop a bank that changes the course of the entire industry.
If you believe in a better future - technically, ethically and organisationally - give Tomorrow a try and become part of the community. Tomorrow also comes with Apple Pay. Try a more secure and confidential payment now.