Bayreuth Festival
Festspielhügel 1-2, 95445
Bayreuth
Bayreuth Festival
If you are a fan of the works from German composer Richard Wagner, then you probably already know about the annual Bayreuth Festival (Bayreuther Festspiele). Taking place at the Bayreuth Festspielhaus each year since 1876, it was Wagner himself who conceived of and supported the idea of hosting a festival to showcase his own original works.
Over the years the festival has become an annual expedition for Wagner lovers, who flock to the city to watch performances in the Bayreuth Festspielhaus, a theatre designed specifically for the occasion.
Josef Lehmkuhl
The history behind the Bayreuth Festival
The German composer personally oversaw the design and construction of the theatre, which was fine-tuned to his exact liking. The theatre also incorporates several architectural innovations, such as a huge covered orchestra pit which ensures the audience focus solely on the stage, and wooden ceilings, floors and walls that create unique acoustics.
Surprisingly, the city of Bayreuth was not Wagner's first choice for his festival. When first working on the idea in 1850, he is said to have other locations such as Zurich, Weimar and Munich in mind. When he visited Bayreuth in 1871 to see the vacant Margravial Opera House, however, he became drawn to the city. Only a year later, the foundation for his own festival hall was laid.
Due to financial shortcomings and other issues, the Bayreuth Festspielhaus was not finished for another four years, with the first festival taking place on August 13, 1876.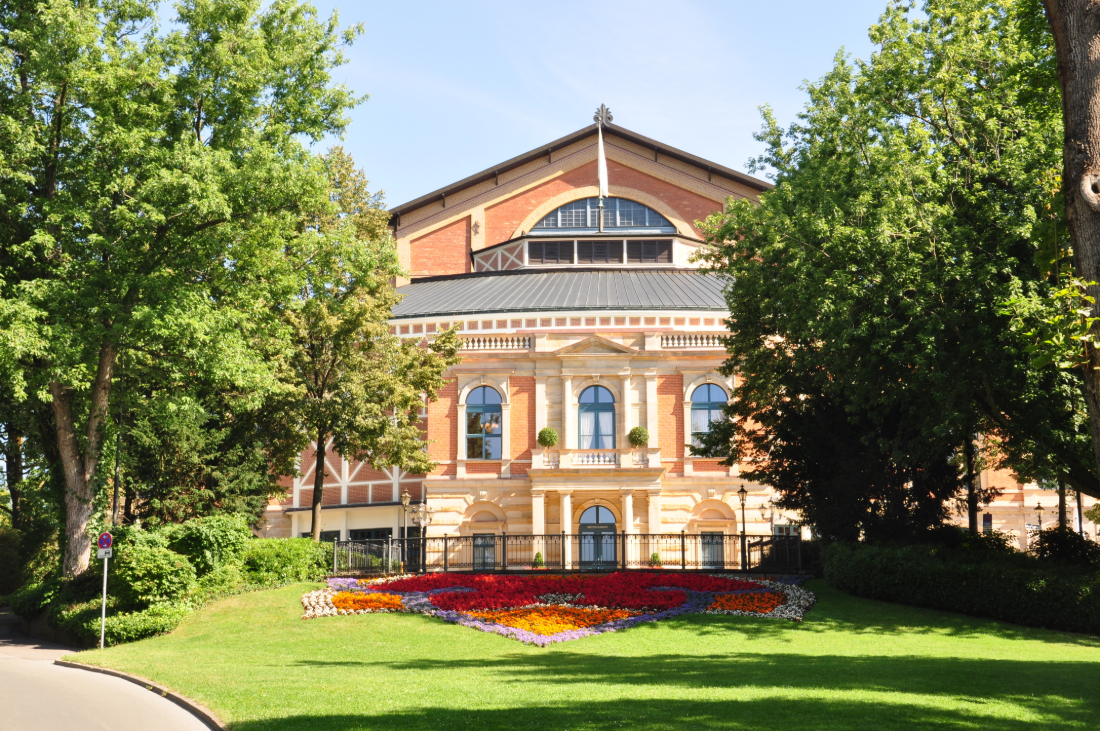 CC by 4.0 - Fss.fer
The programme highlights for Bayreuth Festival 2019
A repertoire of Wagner's ten most iconic works has been performed in varying rotations ever since the foundation of the Bayreuth Festival, including: Der fliegende Holländer, Tannhäuser, Lohengrin, the four-part Der Ring des Nibelungen, Tristan und Isolde, Die Meistersinger von Nürnberg and Parsifal.
This year's programme will open with a new production of Tannhäuser on July 25 and includes performances of Lohengrin, Parsifal, Tristan und Isolde and Die Meistersinger von Nürnberg. A new production of Der Ring des Nibelungen is scheduled for the festival 2020 edition. The Bayreuth Festival 2019 closes with a staged performance of Tristan und Isolde on August 28 at 4pm.
A final fun fact: nearly all performances have begun at 4pm since the first festival and the intermission musicians play a specially composed fanfare for each performance! Some things never get old...
Get your tickets to the Bayreuth Festival
Are you ready to envelop yourself in some of Wagner's finest compositions and be whisked away on a musical journey? Or maybe you want to learn more about the rich history of the festival? To get your tickets and read all about the festival, please visit the official Bayreuth Festival website.