Festival of Lights in Düsseldorf
Schloss Benrath, Benrather Schloßallee 100-108, 40597
Dusseldorf
Festival of Lights in Düsseldorf
The Festival of Lights (Lichterfest) is one of the most popular classical open-air events in Düsseldorf.
Taking place every summer in the Benrather Schloss park, next to the beautifully illuminated castle and Lake Spiegelweiher, guests can look forward to a magical evening with music by the Düsseldorfer Symphoniker and a grand firework show.
© Julian Huke Photography
Experience a romantic, classical evening at the Festival of Lights
The Festival of Light has been a highlight of the city's cultural calendar for a number of years, drawing in crowds of up to 10.000 visitors.
The Düsseldorfer Symphoniker creates a special programme for each event, with this year's festival set to include classic hits such as "Clair de Lune" by Claude Debussy and "Peer Gynt" by Edvard Grieg. The evening will be under the musical direction of Aziz Shokhakimov, who has developed a programme that will take attendees on a fascinating journey from Johann Strauss, through Peter Tchaikovsky, and onto Camille Saint-Saëns.
As always, the concert will be accompanied by a light and firework show, which illuminates the surrounding castle and lake for an unforgettable evening.
© Tanja Deuß knusperfarben
Classic music under a sky of fireworks
In order to ensure an even more spectacular evening, event organisers have created a special premium package: including front-row seats on the Southern castle stairs and a special picnic with international delicacies and drinks before and during the break, it sounds like the perfect romantic night for two.
All visitors are of course welcome to bring their own picnic baskets to enjoy during the evening. You can also choose to purchase a pre-made picnic from the Schlosscafe, which includes fresh bread, salami, cheese selection, spreads, quiches, sweet treats and champagne.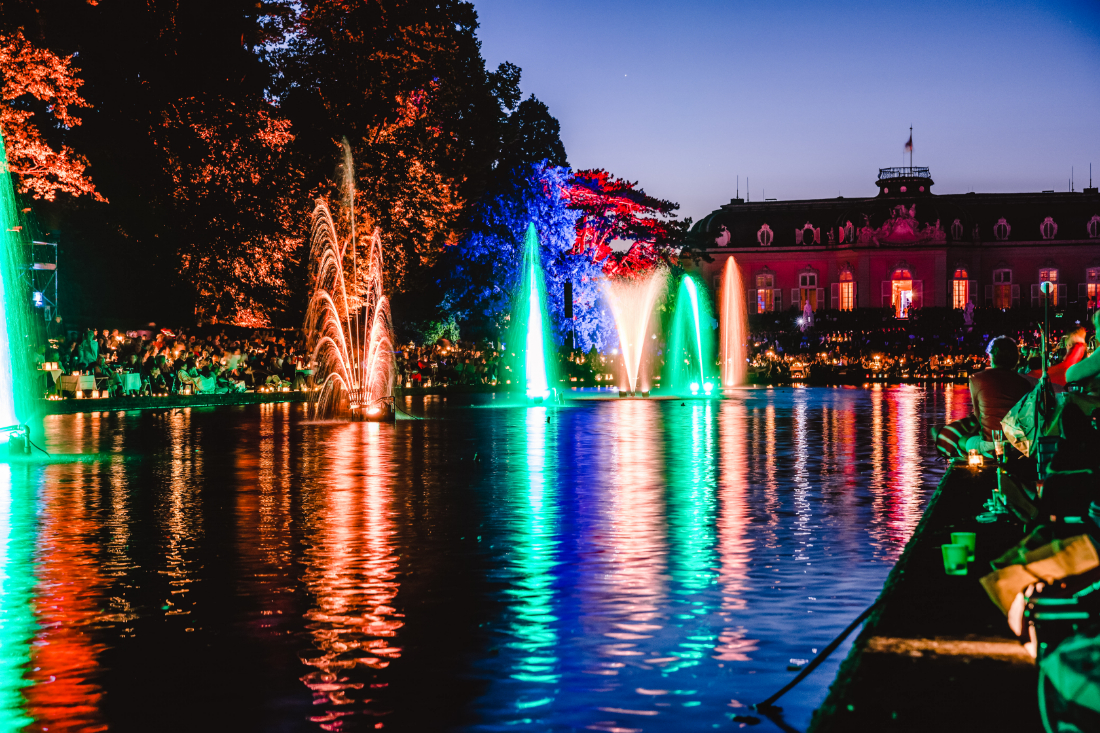 © Julian Huke Photography
Get your tickets to the Festival of Lights now!
If you plan on attending the Festival of Lights this summer while doing a spot of sightseeing around Dusseldorf, then we do recommend that you take public transport to the Benrath park. If you do decide to come by car, designated spots will be available on Niederheider Straße.
For more information on the event and to buy your tickets now, visit the Lichterfest website.
Thumb: © Tanja Deuß knusperfarben