Japan Day Düsseldorf
Various locations
Dusseldorf
Japan Day Düsseldorf
Coronavirus update: Due to restrictions limiting the size of events in Germany, it is possible this event will be cancelled or postponed. Please check with the official organiser (via link at the end).
From ancient Zen wisdom to up-to-the-minute urban pop culture, you can experience Japan throughout the city of Düsseldorf for a whole day. Japan Day, the biggest German-Japanese celebration, shines a spotlight on the colourful, playful, profound and diverse elements of Japanese culture in Düsseldorf.
Since Düsseldorf has one of the largest Japanese communities in Europe, a festival of this type is perfectly apt and has been going strong for almost two decades.
Japanese food, music, dance and gardens
Expect typical Japanese delicacies such as sushi and sake. The food and drink stalls offer everything Japanese you can imagine, complete with culinary seminars. There will be performances of Japanese dancing and singing, and even martial arts spectacles. Pop culture is always very well represented too, with J-Pop and J-Rock bands and manga events.
Visit the Japanese Garden in Niederkassel district, where you can find a temple that will make you feel as though you've teleported to the Far East.
Dress up for Japan Day
Why not celebrate Japan Day by getting into costume? Whether you want to dress as a Samurai warrior, wear a kimono or get into manga gear, you'll be among the many creatively-dressed punters looking the part on this special day.
Take a boat to see the fireworks
At 6.45 pm on May 16, the boat will set off from the Rheinterasse to enable visitors to see the fireworks from the water. The boat will journey along past the old town and the Media Harbour, down the river to Kaiserwerth, where the Barbarossa palace glides into view. It will then return to the old town to view the spectacular fireworks, nestled among a convoy of illuminated boats.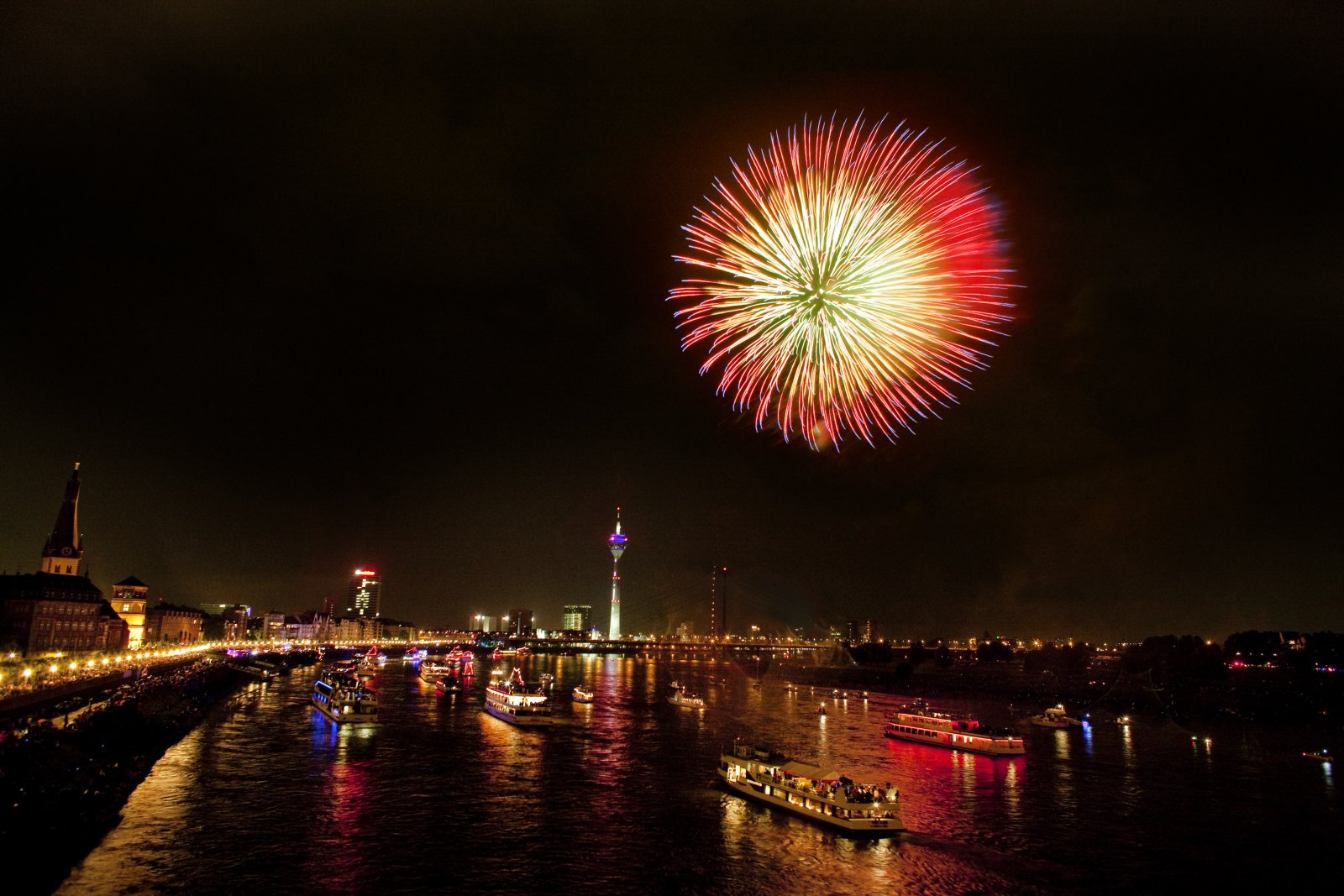 The fireworks signal the end of Japan Day, around midnight.
Boat timetable for Japan Day fireworks
Here's what you need to know if you wish to see the fireworks by boat:
Where: Rheinterasse boat pier
Boat departure: 6.45 pm
Boat return: 12.30 am
Tickets: 93 euros for a standard adult ticket
Düsseldorf's strong bond with Japan
A quarter of Germany's Japanese population lives in Düsseldorf and this Düsseldorf-Japan connection goes back a long way. After the Second World War, there was a need in Japan for industrial know-how. Düsseldorf, known for its well-developed industry and centralised location as "the Ruhr's writing desk", provided this expertise. It was, therefore, a strategic place for Japanese engineering and manufacturing professionals to acquire the specific technical knowledge they needed.
In the 1950s, the Japanese car manufacturer Mitsubishi, as well as many other Japanese companies, set up their enterprises in Düsseldorf and the Japanese community expanded exponentially.
Previously, Germany's Japanese diaspora had been centred around Berlin and Hamburg, but Düsseldorf's growth altered these population demographics dramatically: nowadays over 7.000 Japanese nationals live in Düsseldorf city and, in the North Rhine-Westphalia region, the Japanese population has reached 14.000. There are over 600 Japanese companies there, employing over 32.000 people.
Plan your visit to Japan Day
Japan Day is a big deal in Düsseldorf, so plan your journey, get your costume ready and plan to be impressed by dazzling fireworks, performances and cultural spectacles.