NIGHT of the JUMPs 2020
Various locations
Munich, Berlin, Cologne
Tickets from 45,90 euros
Concessions for children
NIGHT of the JUMPs 2020
Coronavirus update: Due to restrictions limiting the size of events in Germany, it is possible this event will be cancelled or postponed. Please check with the official organiser (via link at the end).
Calling all motorheads, speed demons and adrenaline junkies. The NIGHT of the JUMPs is coming to a German city near you. Prepare yourself for one of the most entertaining nights all year, complete with flips, tricks, fireworks and music. You really don't want to miss this.
Redefining Freestyle Motocross
Welcome to NIGHT of the JUMPs, the world's largest Freestyle Motocross Series. Since 2001, NIGHT of the JUMPs has been the official Freestyle MX World Championship, putting on more than 280 shows in the last 19 years. The events consistently get bigger and better, now being hosted in the largest cities and arenas around the world.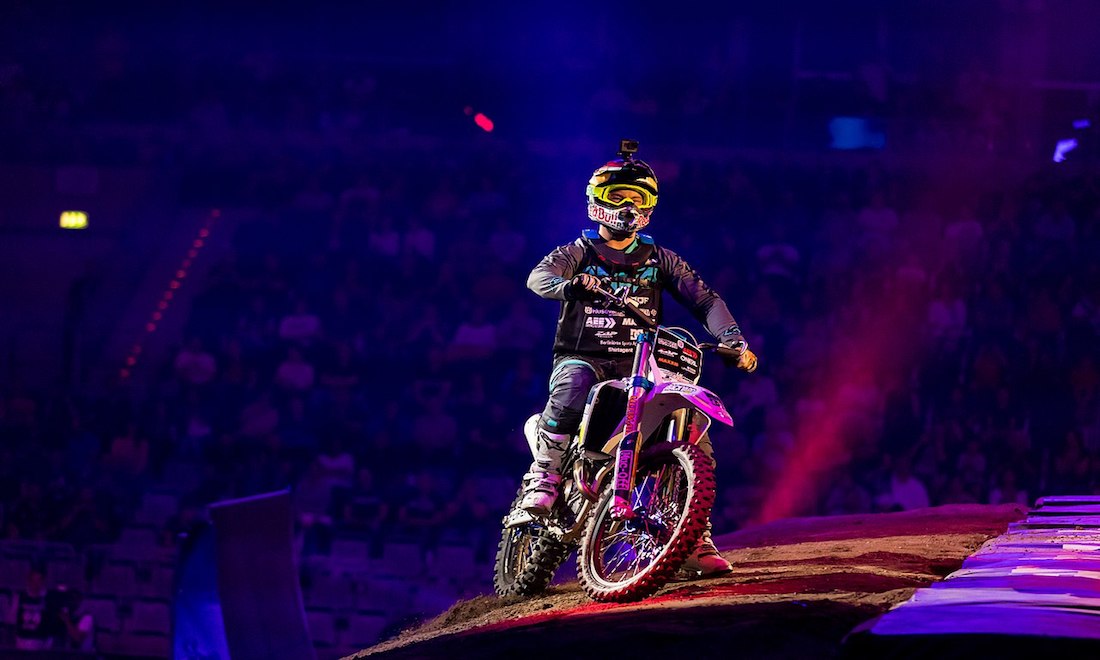 This year, in four different German cities, the world's best freestylers will come together to compete for victory. These competitors constantly push themselves to the limit, showing the world what the human mind can cope with and redefine what is possible in the world of Freestyle Motocross.
Motocross: bigger and better
NIGHT of the JUMPs is not just about seeing what one human can do with a 100-kilogram motorbike. It's about revelry, entertainment and an electric atmosphere.
This year, the event will be even more rambunctious than over before, as NIGHT of the JUMPs will see the best riders from each host nation and some of the best mountain bike freestylers compete throughout the day, with "more flames and fireworks than you can pack into a New Year's Eve celebration."
If that isn't enough to get you excited, then this definitely will: 22-year-old motocross sensation, Luc Akermann, will make his return to the course after comfortably winning the NIGHT of the JUMPS in Sofia in December 2019 and being crowned World Tour Champion 2019 and FIM Freestyle Motocross World Champion 2019.
The German motorcross star will no doubt look to continue his unprecedented domination of the sport.
Visiting NIGHT of the JUMPs
With the events only getting bigger and more spectacular and NIGHT of the JUMPs celebrating its 20th anniversary this year, 2020 promises to bring some of the best events yet. Starting the year off with two days in Berlin, NIGHT of the JUMPs also will visit Munich, Cologne and Basel. Here's the full tour schedule:
Berlin, Mercedes Benz Arena, Friday, February 21
Berlin, Mercedes Benz Arena, Saturday, February 22
Munich, Olympiahalle, Saturday, April 25
Basel, St Jakobshalle, Saturday, May 9
Cologne, Lanxess Arena, Saturday, October 10
The shows are all easily accessible via public transport. You can visit the NIGHT of the JUMPs website for more information on tickets and past and future shows, including dates, reports and rankings.
Pictures: Sven Mandel/CC-BY-SA-4.0 Wikimedia Commons