How to order prescription and over-the-counter medications online in Germany
Paid partnership
How to order prescription and over-the-counter medications online in Germany
Slowly but surely, Germany is coming round to the ease and convenience of internet shopping. We already buy our clothes and furniture online, so why not medicines as well? With some help from Shop Apotheke, Continental Europe's leading online OTC pharmacy, we walk you through the process of buying prescription and over-the-counter medications online in Germany.
Online pharmacies are growing in popularity in Germany. Not only can they save you a trip to your local pharmacy, but they offer competitive prices and can be a convenient option for patients with chronic illnesses or mobility problems - or just those with busy lives and limited time! Small wonder, then, that half of all German internet users order medications online.
If you've heard horror stories about unregistered online pharmacies selling out-of-date, diluted or fake medication, you needn't fear. In Germany, online pharmacies are strictly regulated, meaning they must adhere to stringent legal quality requirements and ensure their customers' health data remains secure. They can even offer patients advice on symptoms, dosage, side effects and potential medicine interactions.
Here's how you can buy both prescription and non-prescription medicines online in Germany, safely and securely.
Online medication retailers in Germany
Online medication retailers in Germany are divided into two types: online pharmacies and other dealers. While online pharmacies are allowed to sell prescription drugs, other traders may only sell over-the-counter medicines.
Like all other pharmacies in Germany, online pharmacies are subject to strict legal requirements. Only licensed pharmacists with a special permit are allowed to carry out mail order trade in medicinal products. Before buying any medication online, you should check that the online pharmacy you're using is officially authorised.
One way to make sure is to check this list of all registered medicine retailers in Germany, put together by the Federal Institute for Drugs and Medical Devices. Alternatively, you can check whether the online pharmacy you're using is displaying a clickable common logo like the one below, which vouches for the authenticity of the website and guarantees the safety of its products.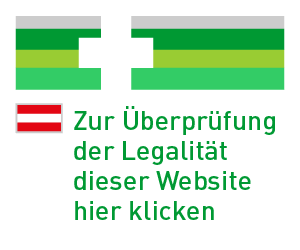 How to order medications online in Germany
Once you are satisfied that the online pharmacy you are using is licensed and reputable, you can get shopping.
Most online pharmacies require their customers to create a user account. This is because the pharmacy is legally obliged to save your order data for at least six months. It also allows the pharmacy to check your orders - past and present - for possible medication interactions, with a direct benefit for your health.
The process for ordering then differs, depending on whether you are purchasing prescription or non-prescription medications.
How to order non-prescription medicines online
If you only wish to purchase over-the-counter medications, this can easily be done online, via telephone or sometimes even via fax - just like regular online shopping. Browse at your convenience, add items to your basket and then check out when you're ready. You can even return products you don't want (excluding medicines).
Since online pharmacies have lower overhead costs on rent and staff, they are often able to offer items at much cheaper prices than your local pharmacy. Remember, however, that you have to take shipping costs into account.
If you're not sure of what medication you should be taking, most online pharmacies also offer an advice function, either by phone, email or online chat, allowing you to explain your symptoms and receive advice from a qualified health professional.
How to order prescription medicines online
Basically, the online redemption of a prescription works no differently than in your local pharmacy. Even in an internet pharmacy, patients must present an original prescription - either on paper or electronically - before any medication can be dispensed.
If the website you are using offers to sell a prescription-only product without a prescription, you should stay away from it. Such sales are illegal and it is doubtful that the drug would even contain the required active ingredient.
The government plans to switch the entire system to so-called E-prescriptions (E-Rezepte) sometime in the not-too-distant future, but for the moment you still need to submit a paper prescription to the online pharmacy by post (copies, faxes or scans are not accepted).
However, some sites offer prescriber services, enabling you to have an online consultation with a doctor or other health professional, who can then send your prescription directly to the online pharmacy for dispensing.
Here's how the process works for ordering prescription medications online:
Place the prescribed medication in your shopping basket.
State that you wish to redeem a prescription by selecting the appropriate prescription type (private, public or free of charge).
You can also add over-the-counter products to your order.
Send the original prescription to the online pharmacy using the address provided (postage costs are usually covered by the pharmacy).
Once they receive it, the online pharmacy checks your prescription against your previous orders for possible interactions.
Your order is then packed and delivered, free of charge, to your home. As a rule, delivery takes just a few working days.
If you only need a repeat prescription, you can call up your practice and ask your doctor to send the prescription directly to the online pharmacy. Your doctor does not incur any additional charges.
Keeping safe when buying medicines online
So there you have it! Buying medicines online in Germany is safe and hassle-free. Just make sure to always use a registered online pharmacy that is displaying the EU common logo. If you are in any doubt, speak to a qualified medical professional.
With a team of over 100 pharmacists and pharmaceutical employees, almost 3 million satisfied customers and around 30.000 parcels a day, Shop Apotheke is one of Europe's most successful online pharmacies. You can order from their large product range easily, cheaply and securely at any time of day or night.