Santa Run - Frankfurt
Rüsselsheimer Straße 22, 60326
Frankfurt
Runner's entry costs 20 euros
Santa Run - Frankfurt
Dress up as good old Saint Nicholas, go for a run and help raise funds for a good cause this holiday season! The third Santa Run is set to return to Frankfurt this December and you're invited!

A jolly good run in Frankfurt
Following similar events in London, New York and Madrid, the Santa Run in Frankfurt is a fun, fancy-dress 4 km charity run through the city centre that is open to runners of all levels. Your entry fee for the race also includes a Santa Claus costume from Deiters Costume store, a drinks voucher and starting number.
One euro from each runner's fee will be donated to the charitable organisation Stiftung Deutsche Sporthilfe, which supports young and experienced athletes with their careers, both financially and strategically.
Santa Claus on the run - for a good cause!
The Santa Run in Frankfurt begins with a fun warm-up party at 6pm on the large square by the Eiserne Steg in the city centre. All runners are invited to dress up as Santa Claus, so expect to see the jolly bringer of Christmas gifts in all shapes and sizes. Groups of friends, families and companies are welcome to enter and run together - the more the merrier!
The run itself is set to begin at 7pm, setting out from the Eiserne Steg and going along the lower quay to the University hospital, before finishing at the Ironbridge. Unlike other races, the Santa Run is not a competitive run. It is more about spreading joy and fun in the lead up to the national holiday. Once the race is over, an after-party hosted by the event organiser Radio Antenne Frankfurt will take place, with DJ Fade and others.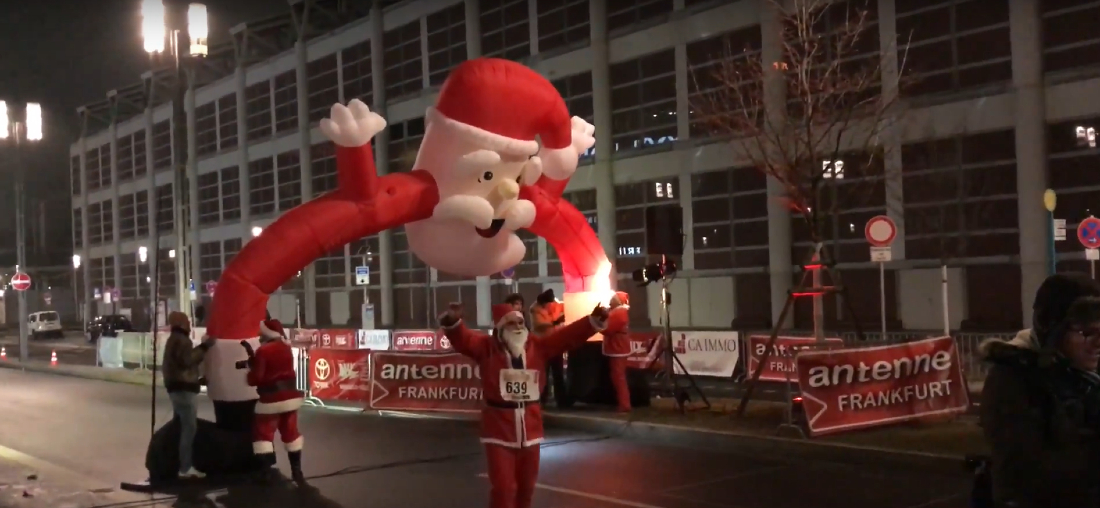 Participating in the Santa Run Frankfurt
Ready to raise your heart rate and some money this Christmas? Be sure to dress warmly underneath your Santa Claus costume, as the run takes place no matter the weather.
For more details and to register, head over to the official Santa Run in Frankfurt website.