Sculpture and Nature Exhibition at Schwante Palace Gardens
11 am - 6 pm, Friday to Sunday
Brandenburg
12 euros (free for under-16s and residents of Schwante and Oberkrämer)
3 euros for tours on Saturdays at 2 pm
Sculpture and Nature Exhibition at Schwante Palace Gardens
Sculpture and Nature is an outdoor exhibition at the Schwante palace gardens. The Guardian hailed it as "the perfect post-lockdown attraction" in 2020.
This relatively new sculpture garden in Brandenburg, to the northwest of Berlin, mixes together art and nature in an exciting new manner, allowing you to stroll through idyllic greenery, witnessing the interplay between nature and art. In 2021, the exhibition runs from June 4 and runs until October 31.
Photo: Martin Creed, Everything is going to be alright, 2011, courtesy Martin Creed and Hauser & Wirth. Image by Hanno Plate
Walk in nature and discover contemporary sculpture
Maintaining social distance is of high priority to help prevent the further spread of coronavirus. On the other hand, having a day out and gaining new experiences are also very important for the human condition. That's why the opening of this exhibition couldn't have come at a better time. It's perfect for those wishing to take a trip to the German countryside and take in new art while staying cautious.
Schwante Palace or Schlossgut Schwante, aims to present the space as "a zone of free thinking and speculative imagination". The sheer size of the gardens at the palace allows visitors to dedicate a whole day to enjoying and exploring art and nature. There is even a restaurant and farm shop, so visitors can refuel before resuming wandering through the sculpture garden.
Hans Arp, Architektonische Skulptur, 1958 (cast 2012) © Stiftung Arp e.V. Berlin/ Rolandswerth. Image by Hanno Plate
Featured artists in the Schwante sculpture garden
The featured artists include Jean Arp, Hans Arp, Dan Graham, Björn Dahlem, Carsten Nicolai, Maria Loboda, Gregor Hildebrandt, Martin Creed, George Rickey and Hicham Berrada. There are special commissions by Carsten Nicolai and Maria Loboda.
Plan your visit to the Sculpture and Nature exhibition
Here are the opening times, dates and rates for the sculpture park at Schwante Palace:
Opening times: 11 am - 6 pm, Friday to Sunday
Dates: June 4, 2021 - October 31, 2021
Tickets: 12 euros. Entry is free for under-16s and residents of Schwante and Oberkrämer
Tours: 3 euros. Tours take place on Saturdays at 2 pm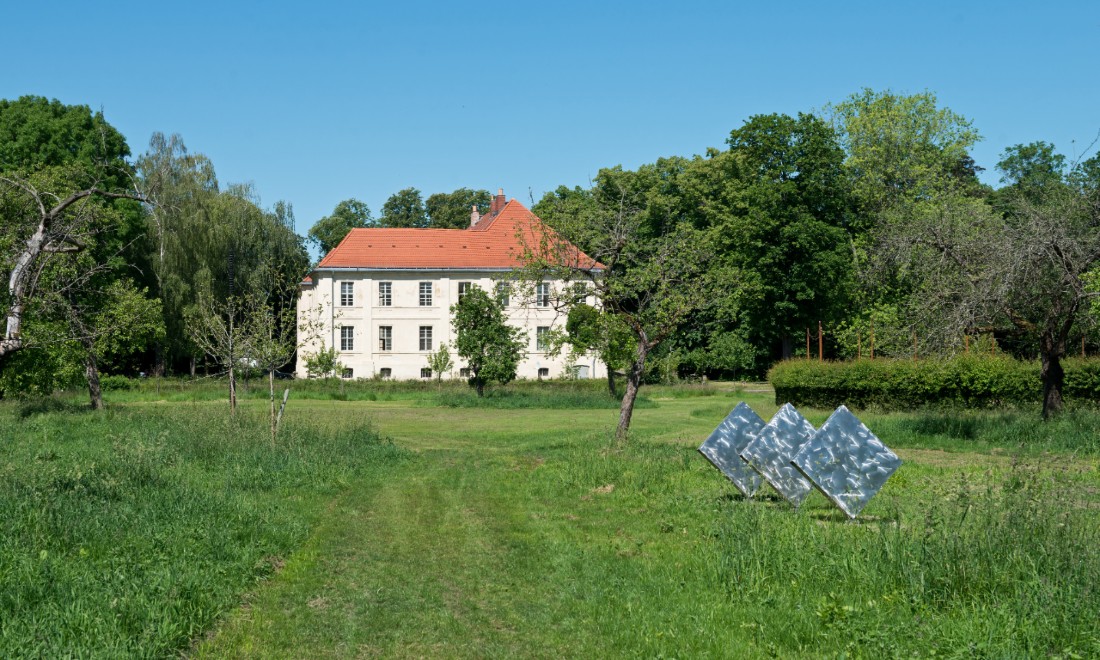 George Rickey, Three Squares Vertical Diagonal II, 1986 © George Rickey, courtesy of Gallery Thomas, München. Image by Leo Pompinon
Thumb photo: Aerial view of Schlossgut Schwante Sculpture Park. Image courtesy of Schlossgut Schwante Sculpture Park