Deutsche Bahn timetable changes: What you need to know
Deutsche Bahn timetable changes: What you need to know
It's that time of year again! As always, Germany's winter train timetable comes into force on December 15 - but for once fares are not going up; ticket prices for long-distance trains are actually due to go down. Here's an overview of everything you need to know.
Cheaper tickets on long-distance routes
We can hopefully look forward to cheaper rail tickets from January onwards - but while the federal government is still hammering out the final details of the planned reduction in VAT on long-distance rail tickets, Deutsche Bahn has pressed ahead and announced it will reduce the price of super saver tickets by 10 percent from 2020 onwards.
Price increase for regional transport
Before you get too excited, however, note that this reduction in the cost of long-distance rail travel is at least partially offset by a price increase for local transport. Fares for regional trains and public transportation will rise by an average of 1,7 percent across Germany. In Berlin, for example, single AB and ABC tickets will go up by 10 cents and 20 cents, respectively.
Changes to Deutsche Bahn network
While most Deutsche Bahn routes will remain unchanged, from mid-December onwards there will be some significant changes. The map below shows where Deutsche Bahn is planning a new route (in light pink), where additional trains will be used (in green, yellow and red) and where more ICE Sprinters will be used (in purple and blue).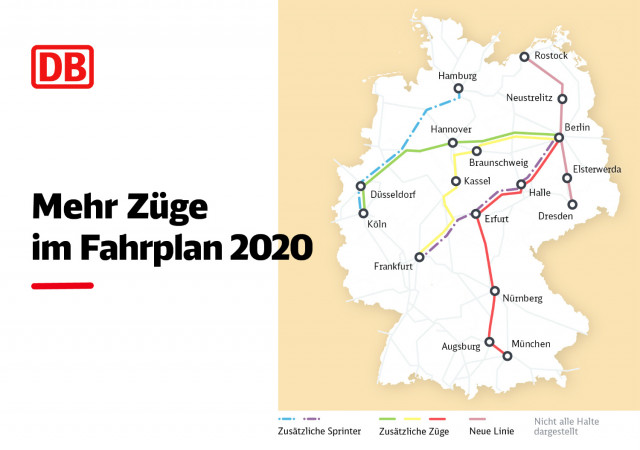 More trains
To improve connections between major German cities, Deutsche Bahn will lay on additional trains on important ICE lines. The Berlin - Erfurt - Munich and Berlin - Brunswick - Frankfurt am Main lines will aim to provide an hourly service.
The number of services between Hamburg and North Rhine-Westphalia will also be increased by 15 percent and services between Berlin and Munich and Hamburg and Cologne by 10 percent.
New ICE 4 trains hit the tracks
More and more of Deutsche Bahn's fancy new ICE 4 trains will also start hitting the tracks, kitted out with more seats, bicycle compartments and free WiFi. The new trains will mostly be used along the Hamburg - Frankfurt - Karlsruhe - Basel - Zurich - Chur route, but also between Berlin and Interlaken from June 2020 onwards.
The map below shows the routes where ICE 4 trains are already operating (in blue) and the new routes for next year (in red).
New line in East Germany
The winter timetable change will also see the new Dresden - Berlin - Rostock long-distance line commence operation - initially 10 times per day and then 16 times (every two hours) from March onwards. Elsterwerda, Oranienburg, Neustrelitz and Waren (Müritz) will finally receive a long-distance train connection again.
Warnemünde and Schönefeld Airport are due to be added to the line in May 2020 and, as soon as the new airport in Berlin-Brandenburg opens its doors, it will also have a stop.
New overnight and abroad connections
From December 15 onwards, rail customers in Germany can also look forward to more connections to neighbouring countries. A new high-speed connection between Berlin - Dresden - Prague - Vienna - Graz will be added from May, and the travel time between Berlin and Warsaw will be reduced by 30 minutes from summer 2020.
There will also be more overnight services, with Deutsche Bahn working in cooperation with Austrian operator ӦBB to provide a new Intercity night service between Zurich and Berlin and Zurich and Hamburg.
Taking the train this winter?
Most of these changes will come into effect on Sunday, December 15, although you'll have to wait until the New Year for cheaper long-distance train tickets. Safe travels!
By clicking subscribe, you agree that we may process your information in accordance with our privacy policy. For more information, please visit this page.