10 must-see world attractions that are right on your doorstep
10 must-see world attractions that are right on your doorstep
In Germany, you never have to travel far to see some of the world's greatest wonders. That's because, of the 1.000 UNESCO World Heritage Sites worldwide, 46 are within German borders. From tangible traces of prehistoric civilisations to opulent baroque cathedrals, there's almost certainly one right on your doorstep. Here we take a look at 10 of Germany's world-class sights and attractions.
1. Messel Pit, Hesse
Standing in this piece of scrubby woodland, it may be hard to picture, but a long time ago, this area was a volcanic lake surrounded by a tropical forest. As a result, the more than 40.000 fossilised remains discovered at Messel Pit have given us a unique insight into the creatures that walked the earth 47 million years ago (such as a horse so tiny it could fit inside a shopping bag!), right down to what food they ate and how they behaved. If you're a fossil fan, you don't want to miss this.
2. Caves and Ice Age Art, Swabian Jura, Baden-Württemberg
Take a journey deep into the past, to the time when modern humans first arrived in Europe. Excavations of these caves back in the 1860s turned up items dating from up to 43.000 years ago, including carved figurines of long-extinct animals, musical instruments and pieces of jewellery. Follow in the footsteps of your prehistoric ancestors, scrambling through the rocky Vogelherd Cave, or pay a visit to the Museum of Prehistory Blaubeuren, where many of the Achtal Valley treasures are currently housed.
Image credit: Thilo Parg [CC BY-SA 4.0]
3. Ancient Beech Forests
Unleash your inner hunter-gatherer and experience the European landscape as it would have appeared thousands of years ago. Germany is one of the last countries in the world to still have vast areas of unspoilt ancient beech forests, contained in five of the country's national parks. With the forests in Germany spreading from Mecklenburg-Vorpommern to Hesse, you're never far away from these dramatic, romantic landscapes.
4. Roman Monuments, Trier
Did you know that the western German city of Trier was such an important Roman colony that from the third century AD it became known as the "second Rome"? Experience an unusually large slice of Roman civilisation, right here in Germany's oldest city, where the ancient monuments (including a Roman bridge, the remains of fortified walls, thermae, an amphitheatre, storehouses, churches and cathedrals) are more numerous and better-preserved than anywhere north of the Alps.
5. Cistercian Monastery Complex, Maulbronn
Having preserved almost all of its original buildings since their construction in the 12th to 16th centuries, Maulbronn Monastery is one of the best-preserved medieval complexes north of the Alps. While the beautiful cloistered buildings are fantastic examples of Gothic architecture, the complex's in-tact agricultural fields and water-management system provide a remarkably detailed insight into the secluded, self-sufficient life led by monks during the Middle Ages.
6. Water Management System, Augsburg
An aqueduct, water towers, decorative fountains, canals and hundreds of bridges all come together in Augsburg to tell a remarkable story. One of the most recent sites in Germany to be granted UNESCO World Heritage status, the 22 sites of Augsburg Water Management System seamlessly document the 800 years of human ingenuity and innovation that brought water to the city and enabled it to flourish culturally and commercially.
7. Castles of Augustusburg and Falkenlust, Brühl
If you're looking for wealth, splendour and treasures at their most opulent, take a journey back to the 18th century at the Brühl Castles of Augustusburg and Falkenlust. Built on the ruins of a medieval moated castle for the elector and archbishop of Cologne, Clemens August, this impressive palace, baroque gardens and rococo hunting lodge are among the most beautiful of their kind.
8. Bauhaus buildings, Weimar & Dessau
Between 1919 and 1933, the Bauhaus movement revolutionised architecture, design and town planning. Rejecting traditional decorative styles, Bauhaus architects emphasised the functional with their austere designs of concrete, glass and steel. These revolutionary Bauhaus buildings, peppered across the cities of Weimar and Dessau, left a decisive stamp on modern architecture that is as relevant today as it was in 1919.
9. Speicherstadt, Hamburg
Spanning an area of 260.000 square metres, the Speicherstadt ("warehouse city") in Hamburg is the world's largest complex of warehouses and a unique testament to the city's mercantile past. Built on thousands of oak poles at the turn of the century, when the annexation of Hamburg into the newly-founded German empire threatened the city state's exemption from import sales and customs taxes, today the Speicherstadt is home to an array of modern and historical attractions, bridges and canals.
10. Falkenberg Garden City, Berlin
The Falkenberg Garden City, a sunny estate of paintbox-bright (and insanely photogenic) houses, is a fascinating, noteworthy example of early social housing. Built around 1910 to offload residents from the squalid living conditions in the slums of Berlin, these multi-coloured houses, arranged at odd angles to each other, were intended to unite the best of both country and city, encouraging a self-sufficient, tight-knit community.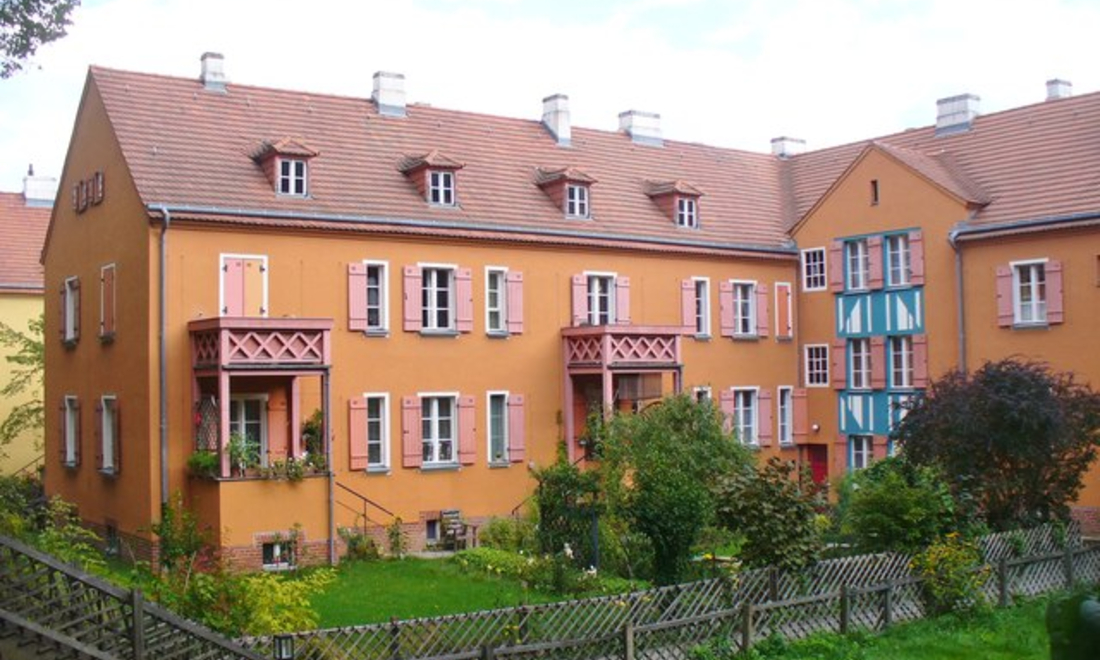 Image credit: Colin Smith [CC BY-SA 2.0]
See some of Germany's wonders
Ready for some awesome, jaw-dropping, world-class sites? With so many UNESCO World Heritage Sites to choose from, in Germany you're never far away from one of the wonders of the world. Which one will you be exploring this summer?