5 of the most overrated places in Germany
5 of the most overrated places in Germany
Germany is filled with beautiful, mesmerising and sometimes downright breathtaking sights and attractions. However, as most people who live here know, there are some that just don't match up to their description in the guide book. Unfortunately, our basic human nature to overdo things means that overcrowding, litter and queues are just some of the problems that plague these overrated German landmarks.
Don't believe the hype
Now, before we start this fun little tour of Germany's most overrated landmarks, let's just say that no offence is intended. It is, after all, only my opinion. But ask some friends, read some articles or look at some travel review sites - where a lot of these comments were lifted from - and you'll probably find that plenty of people agree. See what you think!
1. Alexanderplatz – Berlin
We start our journey at Alexanderplatz, the large, historic square and hub of transportation in the centre of Berlin. The famous square takes its name from the Russian emperor, Tsar Alexander I, who arrived in the city in 1805. He was welcomed with a huge parade in front of the old King's Gate and, to mark this occasion, the Prussian King Frederick William III, ordered that the square be renamed from Königs Thor Platz (King's Gate Square) to Alexanderplatz.
The square, nowadays a pedestrian zone, is filled with tourist attractions: big department stores, the Fernsehturm (TV Tower), the World Clock, the Rotes Rathaus (Red City Hall) and the Neptunbrunnen, to name just a few. And its reputation abroad as the centre of Berlin means that last year it dragged in average of 360.000 visitors per day.
That probably makes for millions of disappointed tourists every week, because Alexanderplatz isn't somewhere you want to stick around for too long - it's essentially a soulless, dreary slab of concrete, scattered with a number of uninspiring landmarks. Even if you climb the TV Tower expecting spectacular views, pretty soon you'll realise you're standing in virtually the only building of interest in the entire Berlin skyline.
Not that this stops the constant stream of visitors. The square has become increasingly crowded by large groups of tourists and throngs of shoppers. To make matters worse, it is one of the most dangerous places in Berlin, with crime rates skyrocketing in recent years.
2. Brandenburg Gate – Berlin
While we are still in Berlin, let's mosey on down to the next overrated landmark on our list, the Brandenburg Gate. The Brandenburg Gate is, well, it's a gate. Aside from its monumental size and historical significance, there isn't really much else to say about it. There is no museum or exhibition teaching you about the gate's history, and neither does walking through it yield any sense of awe; you're just walking through a big gate.
Add to that the scores of tourists all posing for exactly the same selfie (have you even been to Berlin if you don't have a picture of yourself in front of Brandenburg Gate), tour groups and tacky souvenir shops hawking "genuine" pieces of Berlin Wall, and there's not really space for any reflection on the gate's significance. Our advice: Pick another landmark.
3. Checkpoint Charlie Museum - Berlin
Now let us venture 20 minutes down the road to our final overrated stop in Berlin. The Checkpoint Charlie Museum, named after the famous crossing point on the Berlin Wall, was created to document escape plans, attempts and equipment. Tour guides and online reviews might tempt you into a visit, but things change once you get inside.
It is one of the busiest museums in Berlin, with around 850.000 visitors annually, so queues and crowds are common. The worst part of the museum is something it's actually known for – its chaotic and jumbled exhibition style. Thousands of seemingly random objects are stuffed into the museum's exhibits, accompanied by a selection of disorganised signs, often describing objects that are nowhere to be seen. This doesn't come off as interesting or reflective, just confusing and annoying.
4. Neuschwanstein Castle - Bavaria
It's time to jet down the autobahn to Neuschwanstein Castle. Is there a more iconic or beautiful site in the whole of Germany? This Romanesque revival style castle was built during the 1800s for the "Fairytale" King of Bavaria, Ludwig II. Ludwig commissioned the castle as a retreat from the public, for total seclusion, which is pretty ironic since nowadays the castle is teeming with tourists.
Around 1,5 million of them visit the castle every year, meaning that queueing two hours for a 15-minute guided tour is not uncommon. On this galloping tour around the castle's rooms - which 5.000 visitors partake in every day - you learn that, in fact, the castle was never completed and so there's actually not much to see.
To escape the throngs of tourists, you could flee to the Marienbrücke, the iron bridge which provides the best views of the fantasy-like castle. Nope, tourists out there too and most of them are armed with selfie-sticks, which fly about like swords, hacking and slashing while their owners fight for the best photo spots.
If you manage to survive the Marienbrücke and make your way to the castle grounds you'll be greeted by a hectic scene comprised of food stalls, horse-drawn carriages and souvenir shops selling cheap statues and fake swords. Visiting this castle can feel more like an assault course at times.
5. Hamburg's fish market - Hamburg
For the last stop on our tour we make our way back north up to Hamburg. Here we find the famous Fischmarkt, which is apparently an early morning pilgrimage for everyone who wants to experience the "real Hamburg" and, as everyone who's been there will tell you, is so much more than just fish. They'll tell you that as a good thing: "It's amazing guys, you can buy exotic fruit, spices and flowers, there's even live music!"
However, this is what turns the place into more of a cheap fair than a fish market. The traders put on a show for the tourists, screaming out cliché jokes that barely raise a chuckle to anyone but themselves. The live music in the auction hall gives the place a party vibe, a serious disappointment to anyone who was expecting a real, traditional fish market.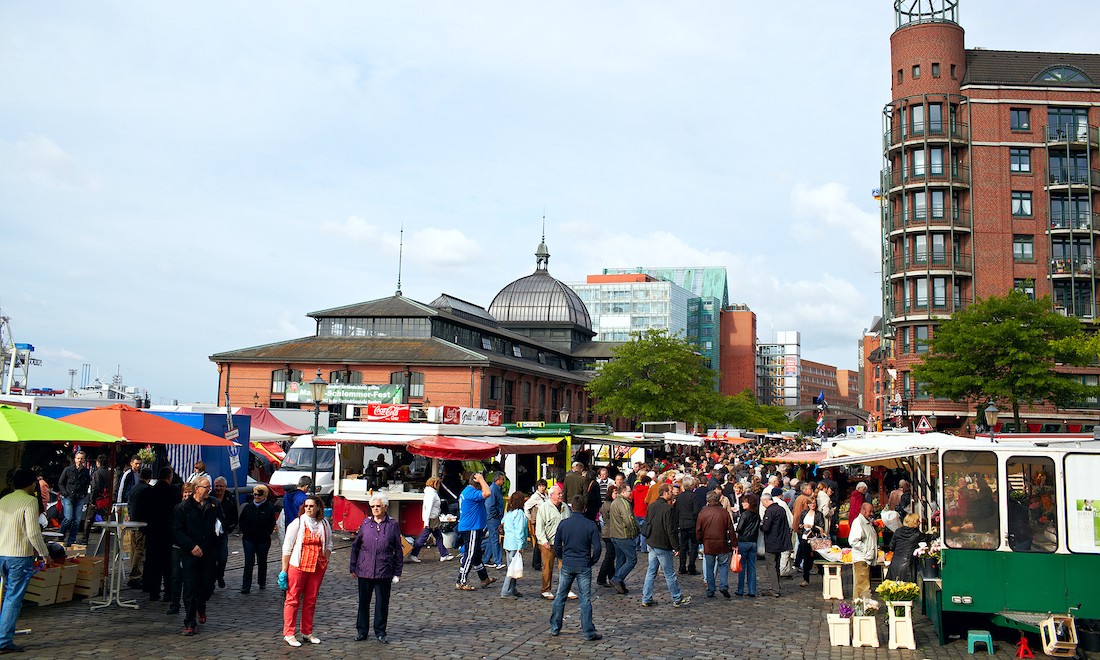 The worst part of this whole ordeal is the fact that the actual fish market is only open from 5.30 till 9.30… in the morning - meaning that it's primarily attended by drunk stag parties making their way down from the Reeperbahn to put the cherry on the top of their crazy night out by buying some discounted fruit at six in the morning. Count us out.
The journey finally ends
No doubt, because of how we are as humans, you'll want to visit these places after reading this. Well if that's the case, good on you! You haven't let someone on the internet dissuade you from going to places that you want to go. However, don't say we didn't warn you.
For those of you who have been to these places, what do you think? Are they overrated? Or are we just too cynical? Where would you say the most overrated places are? Let us know in the comments below!